Hello All,
My fiance' and I attended his cousin's wedding this weekend. I thought this burgundy(I refuse to use the term ox blood..no shade to those who use it, I just do not like it) number was well-suited for the occasion. It's right on trend! The "ox blood" color is the "it" color this season and the peplum style is still all the rave this season, as well. I love weddings and now that I am a bride-to-be, I enjoy being a guest because I have the opportunity to sit back and observe/learn tips on what to do or not to do for my big day. But Most importantly, it's always great to celebrate love between two people! Hope you Enjoy! XOXO
Side Note: I am really going through some issues with my camera as of lately. My pics are appearing grainy, so please bare with me until I figure this thing out. :-)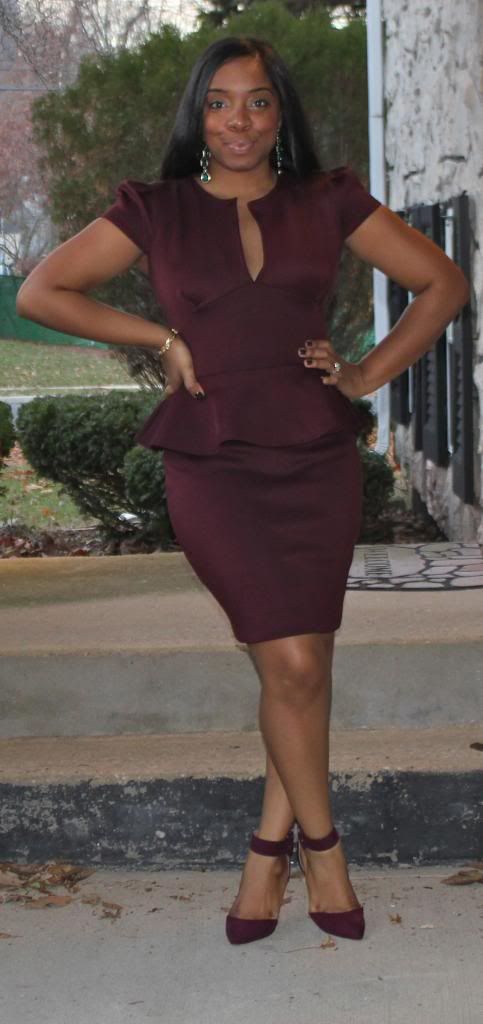 Dress-Boohoo($40)
Shoes-Zara($50)
Coat-H&M (was $70 but I paid $35)
Scarf-H&M
Clutch- Nine West via Marshall's ($15)
Bracelet-TopShop ($11)
This entire look was a little over $100 bucks, not including the coat and scarf!
Hoping everyone had a joyous and blessed Thanksgiving holiday.