Top of the Week to All!
Hoping everyone had a joyous weekend. My weekend was event filled and productive. One of my good friends/bridesmaids came down from CT for a quick impromptu visit. My honey and I will be taking our engagment photos this week, so my mother and I took a drive to the location to get an idea of some photo op's. It was a nice little get away. I am pretty psyched about our upcoming shoot :-) I was going nuts over what to wear, because I wasn't sure what was appropriate to wear for an engagement shoot. So, I decided not to over think things and just kept it basic and simple and decided to do three outfit looks; casual, semi-formal, and a cocktail look. I am so anxious...I hope everything turns out well! My honey doesn't really like to take pictures, so in result we have very few pictures together. So, I'm really looking forward to our engagement session, so I can have some nice photos of us to put up in the house and for memories sake. Anywho, this was my work look from last week, which I am clearly a little delayed in posting. Wishing everyone a BLESSED week! XOXO
I have no idea why my face is blurry in every photo...apologies! :-(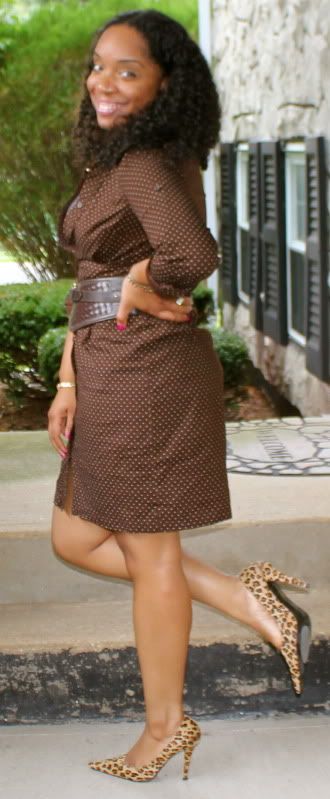 What I Am Wearing:
Dress-Target(Very Old)
Necklace-Loehman's
Shoes-Wild Pair(Old)
Bracelet-Top Shop
Belt-T.J. Maxx
Cami-H&M
Earrings-Thrifted
As Always, Thanks for stopping by!